Serving Wyoming * Northern Colorado * Western Nebraska

D'ttach Snowpro Snow Plow and Zrator Aerator attachments for zero turn mowers
Your zero turn mower becomes a year round tool with SnowPro snowplow and Zrator attachments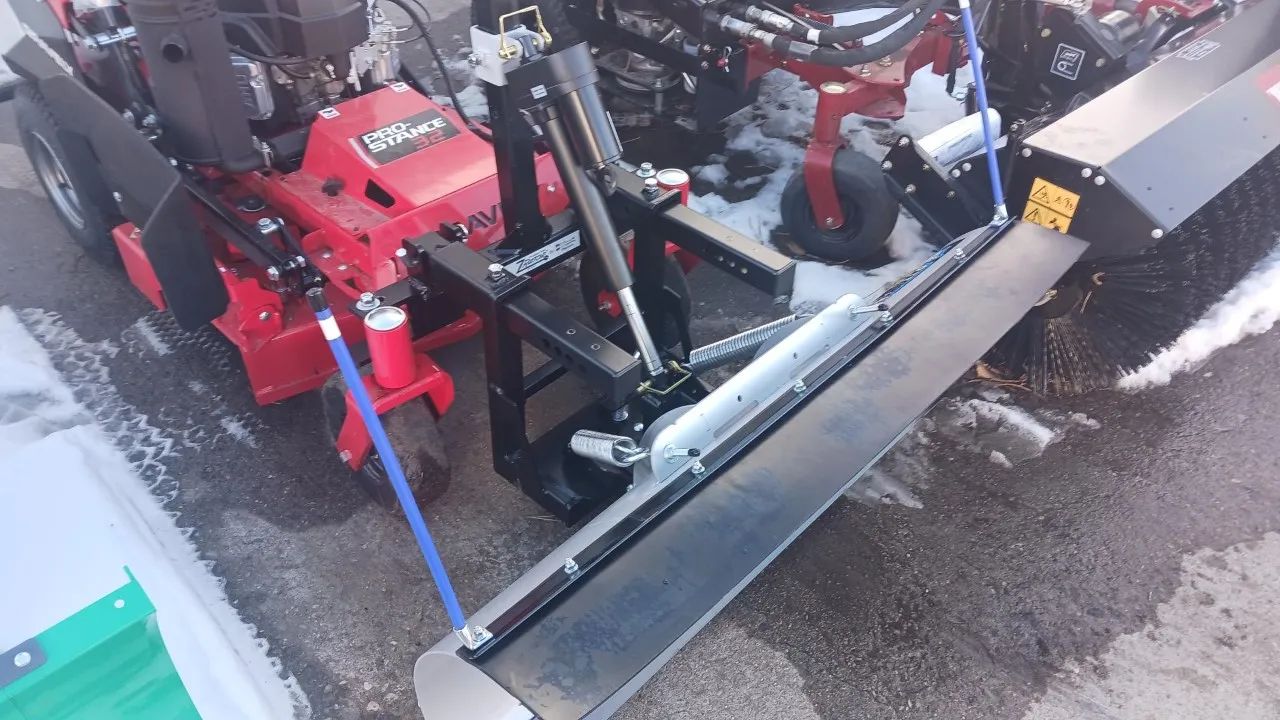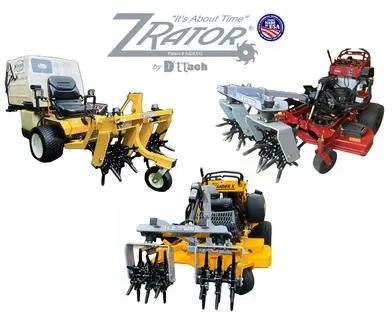 The "COMPLETE" setup includes the mount, electric lift, snowplow frame, snowplow blade, deflector, markers, snowshoes & reversible scrapper bar. The SnowPro series snowplow has electric lift and lower that allows you to apply down pressure when plowing which gives you better plow clearing & back blade scrap as well as better traction.
The 2-arm mount gives better weight distribution and stability for the attachment.
The SnowPro series uses the same mower mount & actuator as the ZRator by D'ttach aerator attachment.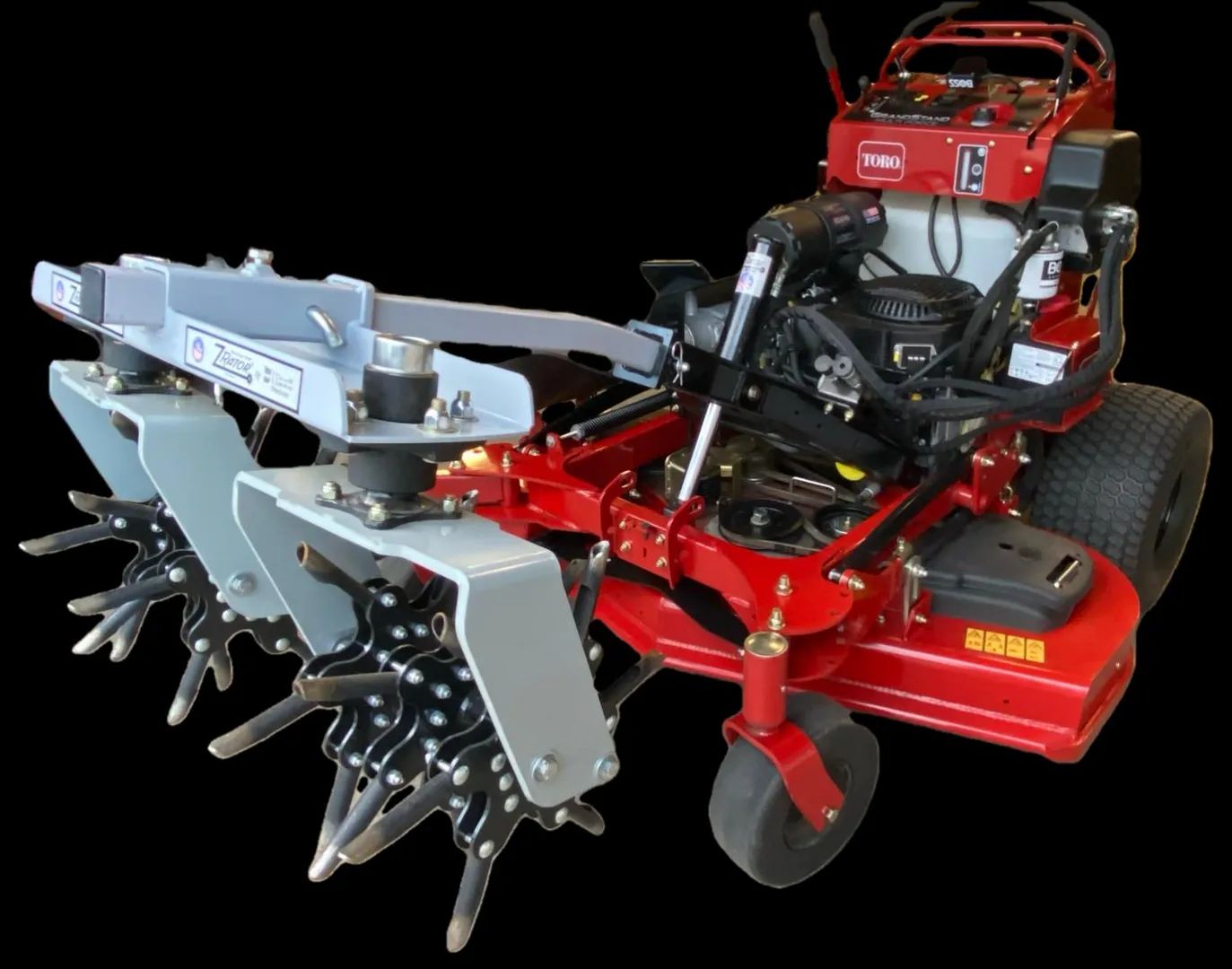 Now you can multi-purpose the commercial mower that you already own and turn it into a stand on - zero turn aerator!
When lowering the aerator into the ground, the weight of the mower is transferred to the top of the tine clusters by raising the front wheels of the mower and off of the ground. This patented design evenly transfers the weight of the mower turning the tine clusters into the caster wheels and allowing the ZRator to be truly zero turn aerator. No additional weights are needed to gain maximum ground penetration.
When operating the ZRator front mount aerator attachment, you can proceed to aerate forward, turning left, right and even in reverse with the speed of your mower without ever needing to raise the tines out of the ground and providing up to 3" of ground penetration!
Non-stop, true core aeration translates to INCREASED PRODUCTIVITY & PROFITIBILITY while ELIMINATING OPERATOR FATIGUE!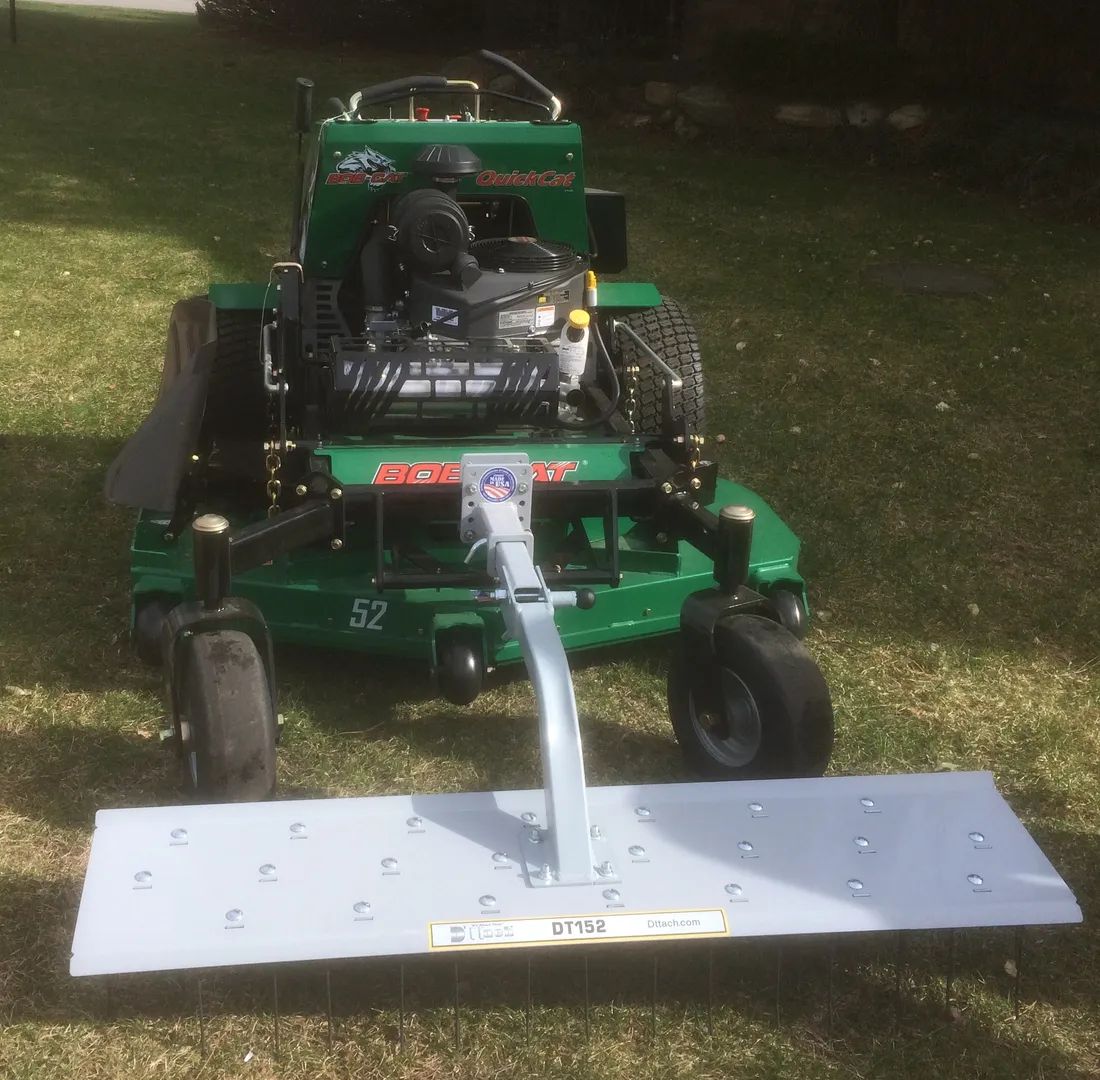 D'ttach Commercial Mower DT Series Front Mount Spring Tine Dethatcher Attachment
Whether you bag or mulch your grass clippings, the D'ttach™ DT Series Front Mount Spring Tine Detatcher can be used throughout the growing season as a professional grade tool to control thatch build up and reduce the chance of turf grass disease.
The D'ttach™ DT Series Front Mount Spring Tine Dethatcher is constructed with heavy duty U-shaped spring tines which lift embedded leaves, twigs and thatch with ease without damaging healthy grass. It also combs matted grass providing the lawn with a clean, raked and manicured look. The D'ttach ™ DT Series Front Mount Spring Tine Detatcher is also the perfect tool for fall lawn renovation when used to surface aerate the soil to promote root development for a healthier and thicker lawn. Additionally, use the D'ttach™ Front Mount Spring Tine Dethatcher during seeding operations to sow in seed and accelerate germination. Finally, use the D'ttach™ DT Series Front Mount Spring Tine Detatcher for the last mowing of the fall, leaving a well groomed, clean lawn.
The D'ttach™ Front Mount Hitch allows multiple commercial mower attachments to be attached to your mower or machine in just a matter of seconds.
Why spend extra money on equipment that you only use seasonally? Now you can turn your commercial zero turn mower into a multitasking tool that is going to do more than just mow grass!
Each D'ttach™ Front Mount Hitch is custom built with ease of installation in mind. Available in three universal sizes and certain exact fit hitches, listed below, D'ttach Commercial Mower Front Mount Hitches have made attaching a hitch to your commercial mower is easy!
Call Tate or Dave at 307-514-5021 for availability & quote!
We answer the phone, no switchboard or pick a number, just a friendly, knowledgeable voice.
Come Experience 'Good, Old Fashioned' Service!
Your Business is Appreciated!
Only The Best
Our Other Brands