Serving Wyoming * Northern Colorado * Western Nebraska
Open 7:30am to 5pm Weekdays
CLOSED SATURDAY & SUNDAY
For after hours appointment or emergency call
Dave Barnett 307-220-3516
Lawn & Snow Equipment – Cheyenne, Wy
The Toughest Outdoor Power Equipment
Serving Wyoming * Northern Colorado * Western Nebraska
We offer a number of great brands, including Hiniker, Kage Innovations, SnowEx, Saltdogg, Intimidator UTV, Grasshopper, Steiner, Gravely, Bradley, BCS, Spartan, Altoz, Steiner, Toro, Bobcat, Ryan, Billy Goat, Echo, Maruyama, Accelerator and many others. Rely on us for everything from lawn mowers to snow blowers - check out our Outdoor Power Equipment page to see if we have the equipment you need for your outdoor project.
Trades-ins always considered
Financing available
New & Used Equipment
You can also come to Frontier Outdoor Power for equipment repairs, service, parts and purchases.
Contact us today to find out what snow removal equipment we have for sale as the winter storms hits in the Cheyenne, WY area.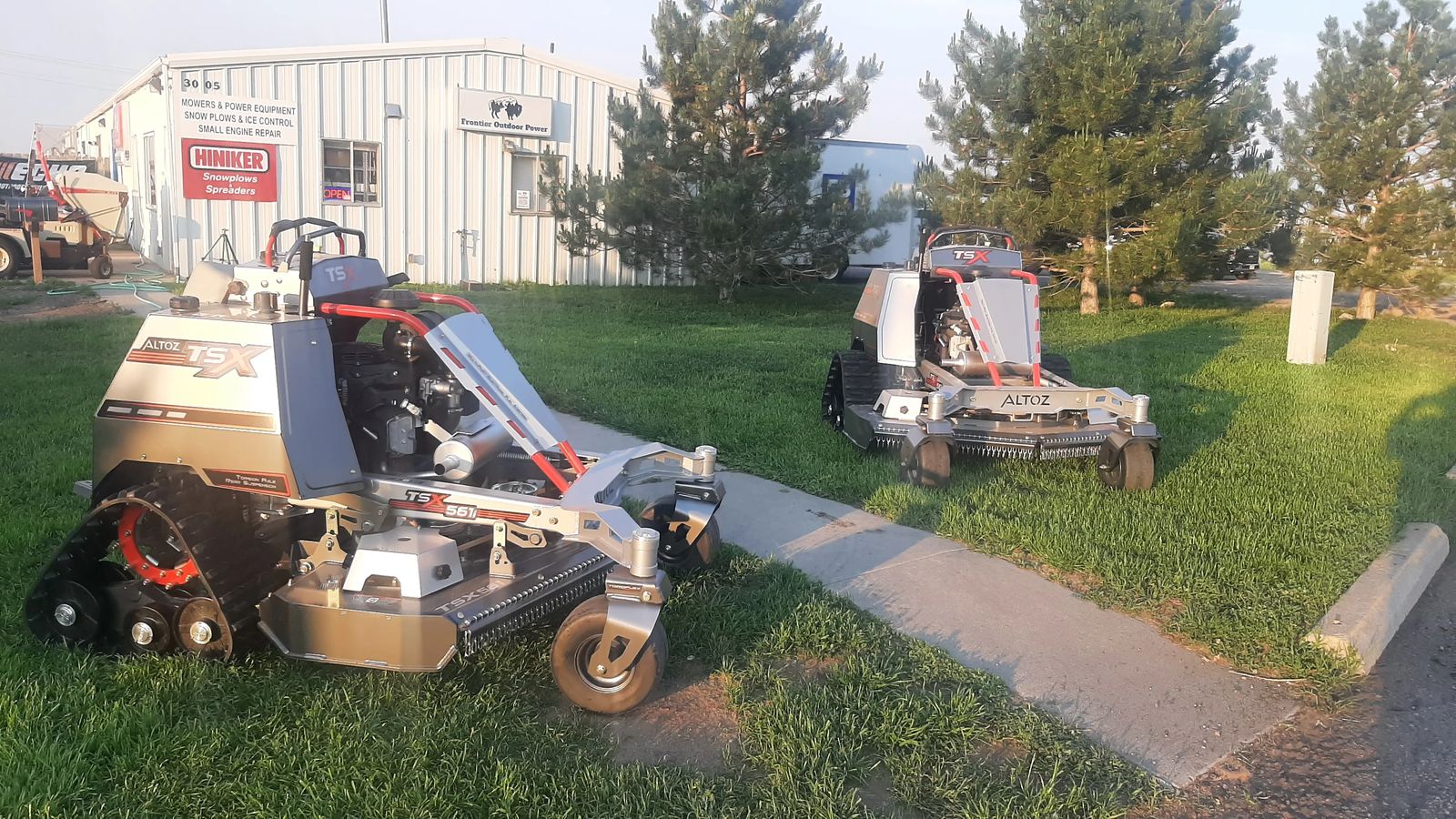 GOES SAFELY WHERE OTHERS CAN'T
Tackle steep inclines, tight spaces and any other challenging conditions you encounter. The Altoz TSX combines next-level engineering with industrial-strength design to bring you the world's first stand-on zero-turn tracked machine.
AVAILABLE AT FRONTIER OUTDOOR POWER
Now Offering INTIMIDATOR UTV'S!
The toughest American-made UTV on the market. American made steel bones that's cut with laser precision. It's not just a UTV, it's an Intimidator UTV. Now available at Frontier Outdoor Power.
Awesome people, great equipment and great service. What more can you ask? They are a great company with great products! Jerry M.

★★★★★
Only The Best Brands
We Carry The Best
We only carry the best in big-name brands of lawn and snow equipment. Check out each brand's page to see the wide variety of equipment we carry.
Frontier Outdoor Power - Mission Statement
Our goal is to provide our customer the very best products, at an honest, affordable price, in a friendly, professional fashion at all times. To continuously maintain fair and honest service after the sale. To build a long lasting friendship! Dave Barnett - Storekeeper
For After Hours Service - Call or Text Dave Barnett at 307-220-3516