Serving Wyoming * Northern Colorado * Western Nebraska
IT'S TIME TO GET THAT LAWN AND GARDEN EQUIPMENT OUT AND READY FOR SUMMER!
We service most makes and models of gas powered equipment
Air Filters - Oil Filters - Hydro Filters - Blades - Belts - Spark Plugs
No charge for estimate - Quick Turn-Around
Pickup & Delivery Available (Addl. Charge)
BROKEN EQUIPMENT CAUSING PROBLEMS?
Power Equipment Parts & Repair
"Nothing's more frustrating than a power tool not starting and performing well when we need it! So often the problems are fuel related. We highly recommend ethanol-free fuel for all small engines. You can purchase this fuel at many gasoline retailers (most affordable) or we have it here by the can (much more expensive). If you need help just drop of your equipment at our store anytime and we will be happy to repair it for you. We work hard to get repairs made quickly ( 1 day to 2 week depending on extent of repair and parts availability) so you can get back to work. If we feel the repair cost would be a waste of your hard earned money we will advise you of such. We will be fair with our customer in all dealings. You have my word on it! Thank you for your business!"
— Dave Barnett - Storekeeper
Rely on Frontier Outdoor Power for gasoline powered power tool repairs. Any brand, any make & any model. We have parts for a variety of equipment.
Snow Blower Parts * Repair * Service
Snow Plow Parts * Repair * Service
Lawn Mower Parts * Repair * Service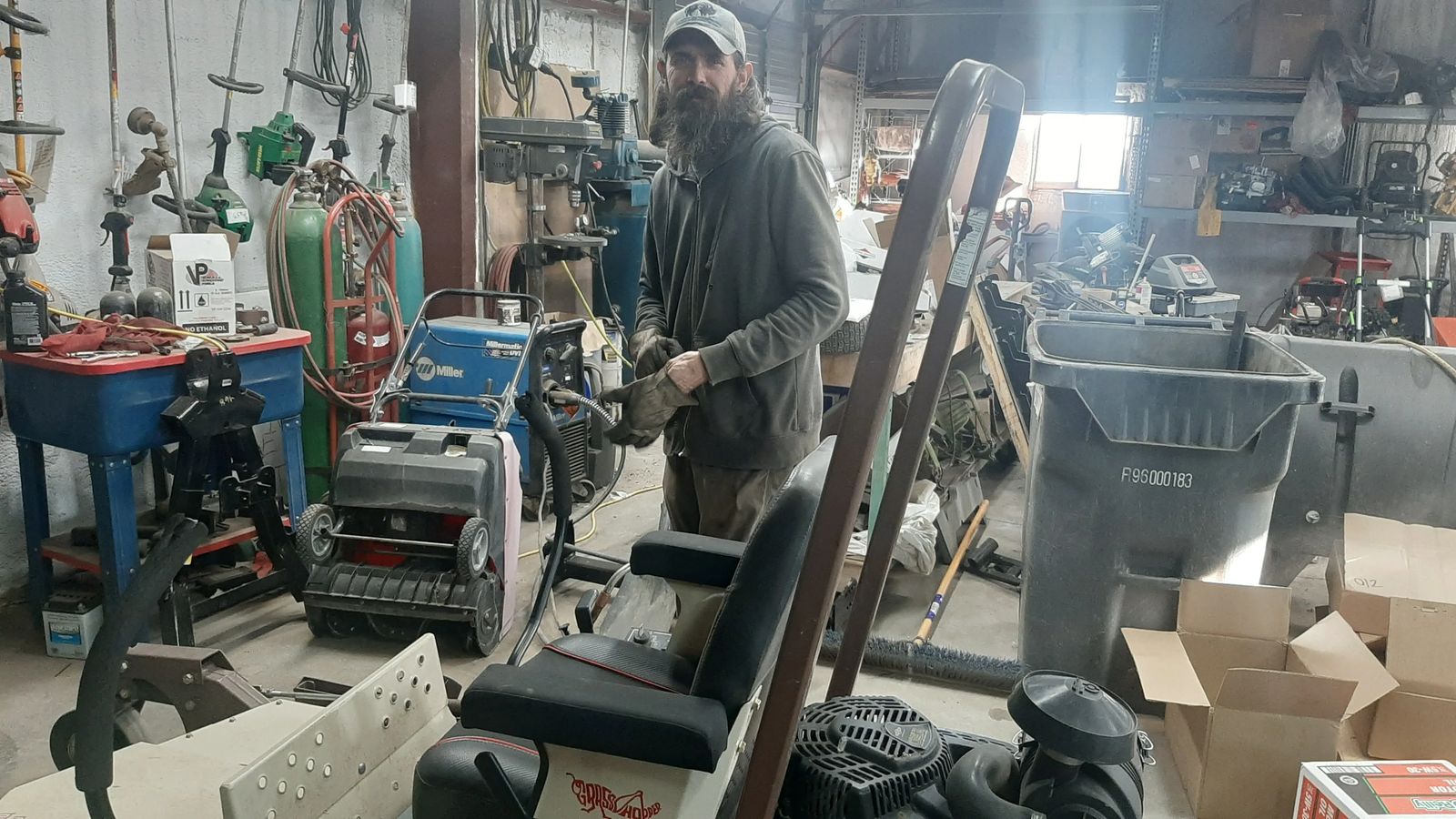 In the shop, Dave Edgar keeps our customers machines working! He keeps the repairs and services moving through the shop in a deliberate and timely fashion. Our customers appreciate his talents
Complete small engine service and repair in Cheyenne. Fast, friendly, honest service. Local family owned. Your satisfaction is guaranteed. Many parts in stock like mower blades, belts, oil filters, air filters, fuel filters, spark plugs and many others. We service all makes of small gasoline engines.
Oil and filter change
Blade sharpening
Chainsaw sharpening
Hydro service
Belt replacement
4 Stroke and 2 Stroke
Just drop your equipment by soon to get ahead of the last minute spring rush. Pickup and delivery service available, just call to schedule.
Lawn mower
Riding mower
Zero Turn Mower
Rototiller
Trimmers
Hedge Trimmer
Chainsaw
Power Washer
Aerator
Power Rake
Snow Blowers
Snow Plows
MOST ALL MAKES AND MODELS
Ariens, Gravely, Spartan, BCS, Bradley, Altoz, Toro, Husqvarna, Bad Boy, John Deere, Cub Cadet, Hustler, Walker,
WE'RE HERE FOR ALL YOUR
POWER TOOL REPAIR NEEDS
Check out the affordable power tool service and repair prices at Frontier Outdoor Power:
Shop labor rate - $100/ hour
Walk mower service-$99.99 plus parts
Zero turn/riding mower service - $169.99 plus parts
Snow blower service - $89.99 plus parts
Handheld service - $79.99 plus parts
Chore product service - $79.99 plus parts
Blade sharpening - $10 off mower / $20 on mower
Snow plow installation (on units we sell)$850
We work on all makes and models: lawn mowers, trimmers, chain saws, generators, blowers, snowplows, aerators and more
*Service rate includes labor and oil. Costs for oil filters, air filters and any additional parts will be added only as needed.
Power tool repair services are hassle-free in the Cheyenne, WY area when you take advantage of our pickup and delivery services. All it takes is a minimum $100 round trip fee based on time and distance (call). If you have any questions on our pricing, contact us today.
Frontier Outdoor Power - Mission Statement
Our goal is to provide our customer the very best products, at an honest, affordable price, in a friendly, professional fashion at all times. To continuously maintain fair and honest service after the sale. To build a long lasting friendship! Dave Barnett - Storekeeper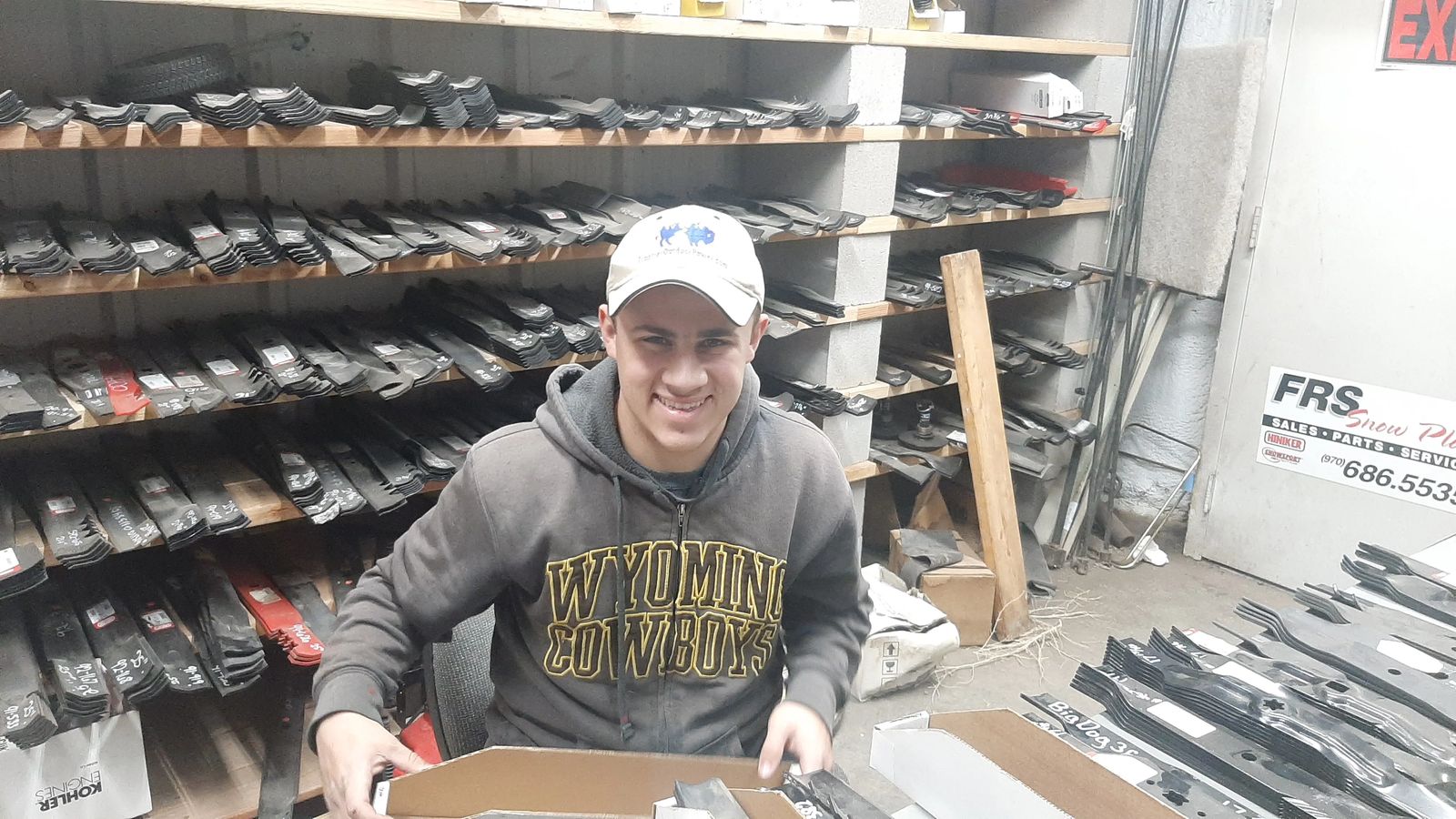 Sales associate Dustin Smith organizes mower blades. Yes there are more than 6 or 10 and they are all specifically different!
We are an authorized servicing dealership for the following brands:
Briggs & Stratton
Kawasaki
Yamaha
Kohler
Subaru
Honda
Tecumseh
We've got the parts and experience to get your equipment back up and running in no time. Schedule your power tool service today.
Took the time to help me over the phone and saved me a lot of money. Wonderful customer service! Arthur L.

★★★★★